Additive Manufacturing (AM) will change the way a product is designed, developed and produced. AM is transforming industries from healthcare to automotive and will change the way we think innovation and production.
AM Summit 2019 focuses on the change AM and 3D printing is creating today and in the future.
The conference is for anyone interested in the development and influence of AM technology, who wants to be smarter, inspired and connected.
Date: 23rd October 2019
Place: Docken, Færgehavnsvej 35, 2150 Copenhagen, Denmark
Take a look at AM Summit 2018 here.
Register for AM Summit
Danish AM Hub is initiated by The Danish Industry Foundation.
Media Partners


Partners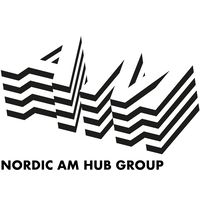 Martin Friedrich
Additive Manufacturing Project Lead Research & Development, BMW Group
Franziska Kaut
Additive Manufacturing Process Development Engineer, Procter and Gamble Service
Devon Hagedorn-Hansen
General Manager, Stellenbosch Technology Centre, Stellenbosch University
Frank Rosengreen Lorenzen, CEO, Dansk AM Hub

Welcome
Jeremy White – Executive Editor, Wired Magazine 
Moderator of the day
Thomas Hofman-Bang – CEO, The Danish Industry Foundation 
Changing technologies are not for turtles
Tommy Ahlers – Member of Parlament and Entrepreneur
Lasse Staal – CEO, Addifab 
Freeform Injection Molding: Leapfrog prototyping, start production
Peter Bay – CEO, Krebs og Co.
Realisation of a 3D printing and Injection molding hybrid
Interview with Gaëtan Richard, Chief Operating Officer, La MIAM Factory
COFFEE BREAK and chocolate tasting from La MIAM Factory
Espen Sivertsen —  Founder & CEO, Vivaldi Group
This is not you father's supply chain
Martin Friedrich –  Additive Manufacturing Project Lead Research & Development, BMW Group
BREAKOUT SESSION 1 – 3D print as lever for sustainable innovation
AM Sustain combines the great business potential of 3D printing with the the Sustainable Development Goals. Meet some of the companies who are participating in AM Sustain. A programme initiated by Danish AM Hub in corporation with Deloitte.
Bahare Haghshenas – Partner, SDG strategy and innovation, Monitor Deloitte
Christian Bjerrekær – Manager, SDG strategy and innovation, Monitor Deloitte
BREAKOUT SESSION 2 – Hvad kan AM-teknologien bruges til (in Danish)
Få et indblik i, hvor AM giver mening og hvor det ikke gør. Hvad er mest relevant for din virksomhed – inden for prototyper, værktøjer og slut-produkter. I denne breakout er der mulighed for at høre eksperternes bud på, hvad teknologien kan bruges til i dag, samt at stille spørgsmål og have dialog.
Henrik Larsson – Direktør, Center for Industri (moderator)
Jesper Damvig – Ejer og direktør, Damvig A/S
Peter Tommy Nielsen – Head of department, 3D Print & AM Technology, Force Technology
Karsten Friis Hansen – Direktør, NEXTTECH
Jeppe Skinnerup Byskov – Sektionsleder, Teknologisk Institut 
BREAKOUT SESSION 3 – AM around the world 
What is happening in other parts of the world in Additive Manufacturing. Join us on an AM journey to South Africa and the rest of Europe.
Devon Hagedorn-Hansen, General Manager: Additive Manufacturing and Reverse Engineering, Stellenbosch Technology Centre, Stellenbosch University
Additive Manufacturing in Africa with a focus on South Africa.
Greta D'Angelo, Head of Technology, Amexi
Additive Manufacturing in Europe
BREAKOUT SESSION 4 – Adding Additive Manufacturing to your business
The future of making things is here, and it is complex. Engineering leaders are under constant and growing pressure to find more innovative solutions for increasingly demanding customers in the context of an extremely competitive global market. In this workshop you will find your primary areas where you need to make an effort to adapt your business to new technologies.
Asif Moghal, Senior Industry Manager, Autodesk
LUNCH & NETWORK
Meet Nordic AM Group and network 
Ronen Hadar – Director of Additive design & Manufacturing, The LEGO Group 
Challenges in Large Scale AM Production of Consumer Goods
Arno Held – Managing Partner, AM Ventures

Critical Success Factors and Survival Rates of AM Start-ups
Thea Wulf Olesen – CEO, Particle 3D

We print bone
Bastian Schaefer, Innovation Manager, Airbus and
David Benjamin, Head of Living, Autodesk
Dualtalk
Ian Cronin, Project Lead, Future of Advenced Manufacturing and Production, World Economic Forum
Franziska Kaut – Additive Manufacturing Process Development Engineer, Procter and Gamble Service
Additive Manufacturing with Polymers at P&G Devices
Christian Beck, Production Partnerships Sales Manager Europe, Carbon 3D
Carbons Digital Light Synthesis – A Game Changer
Closing remarks 
Thank you for today & key takeaways
RELAX, NETWORK AND DRINK BEERS
Follow this page as the programme is updated…